ALL PRODUCTS ARE DESIGNED, MADE AND MANUFACTURED IN THE U.S.
OUR MISSION
Do you have the courage to accomplish something bigger than yourself? Something that seems impossible, but in reality is just within reach; flying to outer space, climbing the highest mountain, obtaining that degree, starting your dream business, reaching fitness goals. Or are you going to watch someone else take your once in a lifetime opportunity?
This is your chance! Take action. Develop discipline & habits; stop for nothing and no one to accomplish your purpose. Adjust, evolve and adapt. With life lessons and experiences, we challenge our inner strength to push through and prevail. You can accomplish anything if you put your mind to it.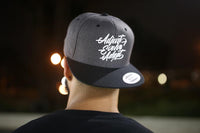 UNAPOLOGETICALLY BOLD
Striking yet timeless, our designs are for the bold. The Rule or Be Ruled collection of clothing, bags and hats is always evolving, but our mission stays constant - to inspire you to be always authentic and true to yourself.
WHY RULE OR BE RULED?
Rule or be Ruled isn't just a brand. It's a movement, a community of dreamers, gamechangers and knowledge-seekers who wake up every morning wanting more. Let our apparel show the world your purpose.
Your mindset drives your actions - and your actions become your legacy. Our motivational designs empower you to put your best foot forward. Dress with intention, show what you stand for and aspire to inspire those around you.
PREMIUM APPAREL
You feel at your best when you invest in the best. That's why our pieces are made in the U.S. with quality fabric and design. A perfect fit unleashes a confident version of yourself, ready to take on whatever life throws at you.
CREATE YOUR LEGACY, DEFINE YOUR PURPOSE.
IT ISN'T JUST A MINDSET, IT'S A LIFESTYLE.
WHAT PEOPLE ARE SAYING
The brand culture just felt right with my mindset and I knew I had to get some shirts, plus it fits well and is very comfortable. This will become your new favorite Tee!

@discovershaf
Hands down my favorite shirt. So Versatile i can wear it comfortably working out or with some jeans out to dinner. Athletic fit and holds through multiple washes. 10/10 for me

@rrrs_4life
This is honestly the best fitting shirt I have ever worn! I loved the fit and the design, especially the material it was made out of, it is flexible and so comfortable, it's a great brand.

@maverick_gk
The rule or be ruled tank top is one of my favorites to run/workout/lounge in. The soft material makes it hard to decide which one to do! Ordering with them was super easy, and quick responses when asking questions. Can't wait to see what other products roll out. Thank you!

@schwiftylexi
Power and motivation, love the design and concept of this brand. RULE OR BE RULED reminds me that my success in life is up to me.

@albeemart77